Welcome to Ransome's Eastern Shore
Chesapeake Bay Front Estate!
Located where the earth meets the sea,
on the Chesapeake Bay of Marylandís Eastern Shore.
Can accommodate 35-40 guests!
856-981-6612 (Marie's cell) 215-350-1165 (Percy's cell)
609-975-8127 (Work) 609-257-3719 (Work Fax)

Looking for a unique and unbelievably stunning Chesapeake Bay setting for your family vacation, reunion, wedding destination, corporate seminar or club retreat and special event? A peaceful refuge to relax in beautiful and pristine surroundings, yet be "close to it all"? Our 250 acre waterfront Chesapeake Bay estate offers the perfect vacation rental location for all occasions and many group activities. View some of our many rental uses.
Accommodations: Multi-complex of 3 homes plus the RV (total of 11,250 sq. ft.) on secluded 250 acre estate, with 12+ bedrooms, 28 beds, 8.5 baths - Can comfortably sleep up to 40+ guests!
Location: Cambridge, on the Chesapeake Bay of Eastern Shore MD (close to Baltimore, D.C. and Phila.)
Availability: See available dates for 2019 / 2020
Guestbook: View guest comments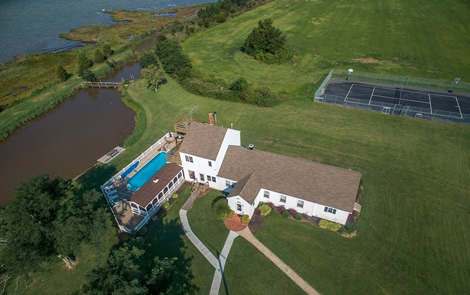 Click here for aerial video of our Chesapeake retreat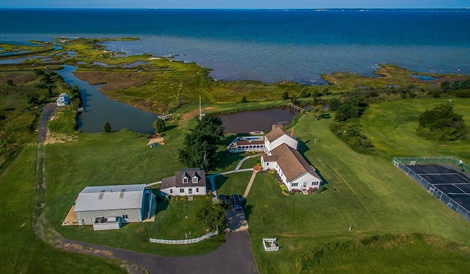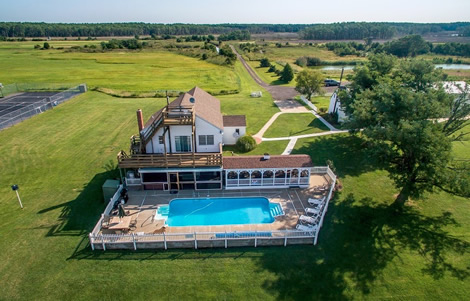 Ransome's Chesapeake Retreats (RCR) is a multi-generational family vacation complex. RCR has several facilities, in close proximity to each other, on and near this exclusive and secluded bay estate. It's an ideal situation for your special gathering, where you are close together but can still have your own space.
RCR has been called a "rare find", as there are few, if any, large estates for your use that are situated on the Bay. This captivating estate is available for your enjoyment and pleasure.




Photo of the Main House, Cottage and Fun Center - 11,250 sq. ft.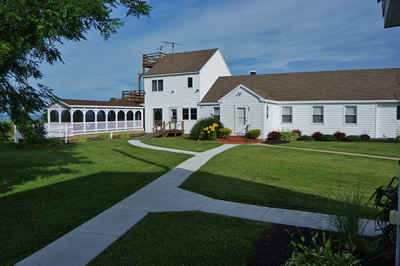 New 10'x 60' screened in porch/gazebo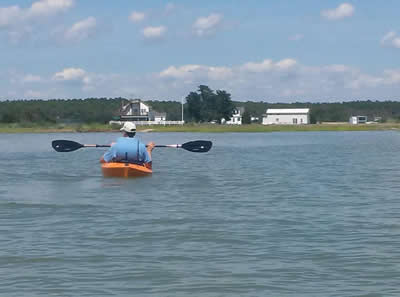 Another fun day boating in the water and exploring the Bay shore
The Marti-Laine FUN CENTER has a 30' x 30' meeting/game room, where there is a large kitchenette, a ping pong table, a pool table and TV - a place for everyone to gather for fun anytime, especially during inclement weather.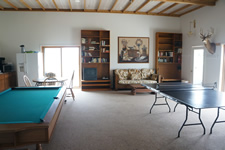 Conference / game room in Fun Center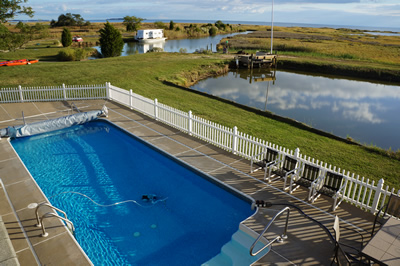 The in-ground swimming pool (Seasonal Only) and massaging hot tub are enjoyed by all ages. Each facility is supplied with high chairs and porta cribs for babies. We're pleased to meet your needs and especially so, when traveling from afar, you don't have to bring along those necessary items. If there's something we've not thought of, please let us know.

A family's schedule of fun events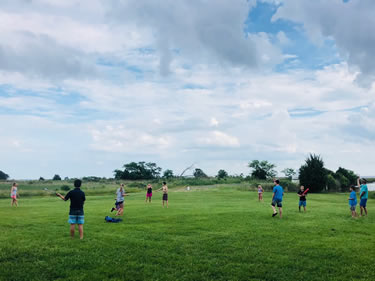 Playing outdoor games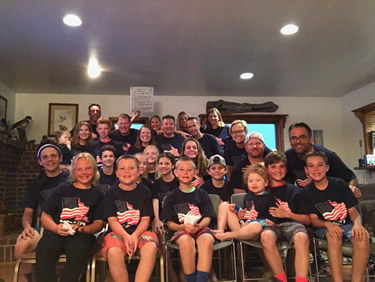 Making sweet memories at RCR
RCR is located just outside the charming towns of Cambridge and Fishing Creek, quaint maritime communities filled with history, tucked away on Maryland's Eastern Shore. In Cambridge, the new Hyatt Regency Chesapeake Resort offers excellent golf courses and delicious cuisine. Our Retreat is an ideal getaway to go bicycling, boating, fishing, golfing, and birding, take advantage of canoe and kayak tours, hunting opportunities, and photography shoots, or just relax in the pool and/or hot tub, overlooking the bay. Your soul will be revitalized in the dramatic and breathtaking views of our Chesapeake Bay rental, especially in the spectacular sunrises and sunsets. Why not enjoy your next Chesapeake Bay family reunion at our Retreat.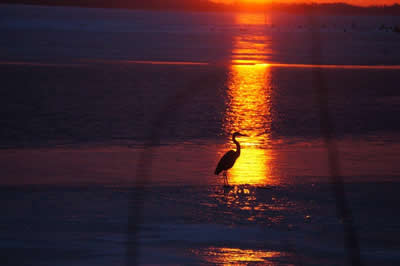 Sunset with Egret
Visualize yourself sitting on the 2nd floor deck overlooking the majestic Chesapeake, taking in a magnificent and unrivaled panoramic view of a glorious sunset, sipping your favorite drink before biting into Old Bay seasoned, freshly steamed crabs. Hear the lulling sounds of the bay ducks and geese, talking to each other as they fly overhead. Feel the wonderfully soothing bay breeze and breathe in the fresh air while sharing this time with good friends and loved ones. Ransome's Chesapeake Retreats provides the setting for you to have a wonderful experience. Escape to our great estate! Come play by the Bay. Its the perfect Chesapeake Bay rental!!
View our hunting property for sale.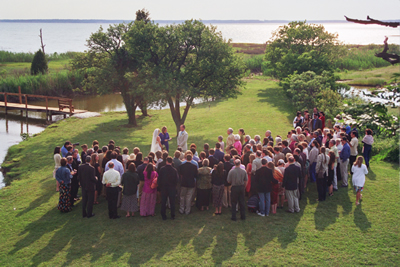 Planning a wedding? You can have your Chesapeake Bay wedding in a natural setting, along with elegance and flair at the Ransome's exclusive Chesapeake Bay estate. Keep in mind that our estate comfortably sleeps up to 40 so your entire wedding party and/or guests can conveniently be accommodated on your special day! For large events, such as weddings, you are welcome to choose your own vendors giving you the freedom to plan your special event as you would have it! Choosing your own vendors will also be a great savings to you. However, if you do need assistance w/selecting vendors, we will assist you w/great information & suggestions.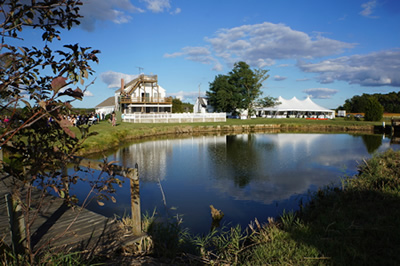 For 70 years, five generations of the Ransome families have enjoyed our Maryland properties and continue to share with our guests the beauty and splendor of this landmark estate, nestled on the bay and beach of the Chesapeake, in God's country! Our waterfront country villa will welcome you to a carefree vacation, ready for making memories that will last a lifetime. We sometimes have the best intentions of spending precious time with those we love and cherish but put it off. Don't let another year go by. Make RCR your next Maryland Eastern Shore vacation destination. Give us a call today!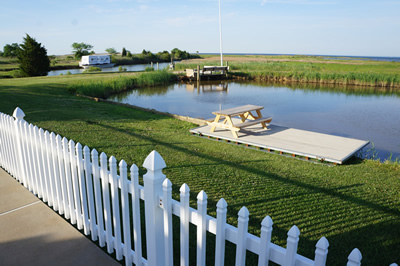 Swimming pool view of the fishing pond and bay beyond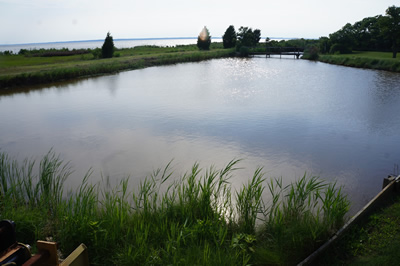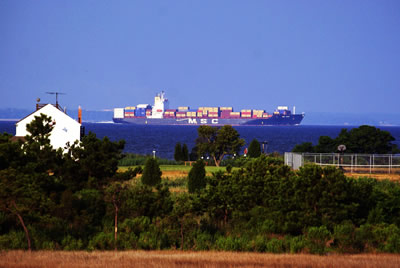 You never know whatís going up the Bay in front of the retreat
Located in Golden Hill
15 minutes southwest of Cambridge
Just a short drive by car to ...
Easton, Oxford, St. Michaels


45 Minutes from Salisbury
1 Hour from Ocean City
1 Hour 45 Minutes from Baltimore
2 Hours from Washington
2 Hours 30 Minutes from Philadelphia
3 Hours 30 Minutes from Norfolk, VA
4 Hours 30 Minutes from New York City
6 Hours from Hartford, CN
* Visit our Chesapeake Bay Vacation Blog *

Hunting Property For Sale -- Available Now !!
(click here or Map for details)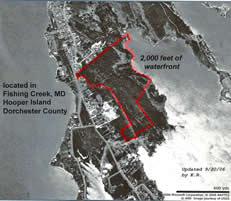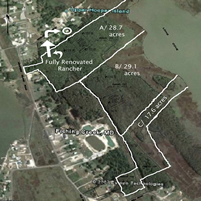 (click here for details)
* * * EXCITING &nbsp NEWS &nbsp UPDATE! * * *
HUNTERS &nbsp PARADISE
Please click here for info on HUNTING PROPERTY for Sale and another Ransome property for sale as well, both at a different location!